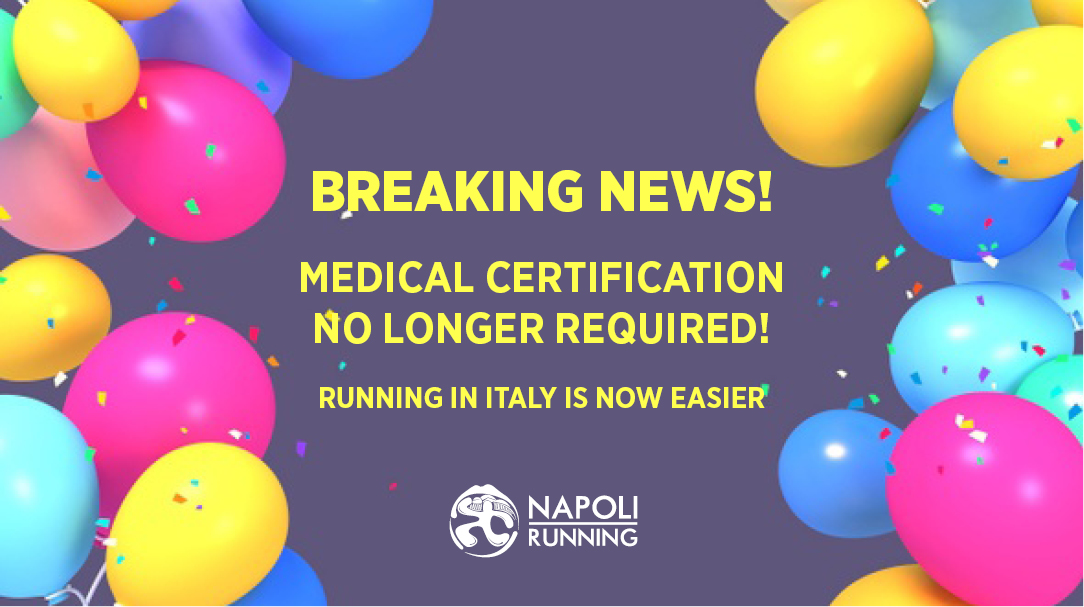 Are you dreaming to run the Sorrento Positano 54km and 27km on the 1st of december 2019 or the Napoli City Half Marathon on the 23rd of February 2020?
NOW YOU CAN!
The Italian Athletics Federation has modified part of the regulations (see below) and you are allowed to participate without any specific medical document.
Medical certificates for foreigners in Italian marathons and half marathons no longer required

Foreign athletes not registered for sport clubs affiliated to foreign federations can finally participate in international marathons and half marathons, without having to obligatorily present a medical certificate. From now on they'll simply sign a liability waiver. 

The Italian Athletics Federation (FIDAL) has amended a regulation which, until now, required organizers to only accept medical certificates that conformed to the Italian legal system. 
This is a really important turning point settled thanks to the intense and favorable cooperation between the Italian Athletics Federation and the event organizers. 
Finally, all Italian sports events of international level will have the opportunity to welcome all those foreign citizens, with tourist-sporting goals, who had always run elsewhere due to the Italian bureaucratic difficulties.
The participation regulations for foreign athletes registered for sports clubs affiliated to foreign federations remain unchanged.
————————
Les certificats médicaux pour les étrangers participant aux marathons et semi-marathons italiens disparaissent.
Finalement, en Italie même, les athlètes étrangers non-inscrits peuvent participer aux marathons et aux semi-marathons internationaux sans obligation de présenter un certificat médical, mais simplement en signant une décharge de responsabilité.
La Fédération italienne d'athlétisme (FIDAL) a ainsi modifié un règlement qui obligeait jusqu'à aujourd'hui les organisateurs à n'accepter que les certificats conformes au système juridique italien. 
Un grand tournant est donc né, grâce à la collaboration intense et fructueuse entre FIDAL et les organisateurs.
Ce changement donnera la possibilité aux grands événements italiens de niveau international d'accueillir tous les citoyens étrangers, à vocation touristique, qui ont toujours rejeté l'Italie pour des difficultés bureaucratiques.
Naturellement, le règlement de participation des athlètes étrangers inscrits aux clubs de sport affiliés à des fédérations étrangères reste inchangé.
——————————-
Ärztliche Atteste für an italienischen Marathons und Halbmarathons Teilnehmer Ausländer, sind nicht mehr erforderlich. 
Ausländische Athleten, die nicht für Sportvereine registriert sind, können nun endlich an internationalen und Marathons und Halbmarathons teilnehmen, ohne ein ärztliches Attest vorlegen zu müssen. Von nun an unterschreiben sie einfach einen Haftungsverzicht. 
Der Italienische Leichtathletikverband (FIDAL) hat eine Verordnung geändert, die Organisatoren bisher verpflichtete, nur medizinische Dokumente zu akzeptieren, die dem italienischen Rechtssystem entsprachen. 
Diese Änderung stellt eine bedeutende Wende dar die durch die intensive und gute Zusammenarbeit zwischen dem italienischen Leichtathletikverband und den Veranstaltern ermöglicht wurde
Dadurch werden alle italienischen Sportveranstaltungen mit internationalem Niveau die Möglichkeit haben, all jene ausländischen Bürger die als Sporttouristen reisen, willkommen zu heißen, die bisher aufgrund der bürokratischen Schwierigkeiten in Italien anderswo gelaufen sind.
Die Teilnahmebedingungen für ausländische Athleten, die bei Sportvereinen ausländischer Verbände registriert sind, bleiben unverändert.
——————————-
Eliminación del Certificado Médico para extranjeros en Maratones y Medios Maratones celebrados en Italia.
Finalmente, también en Italia, podrán participar en maratones y medios maratones, atletas extranjeros no registrados en clubes deportivos, sin la obligación de presentar un certificado médico. Simplemente deberán cumplimentar un documento de descargo de responsabilidad.
La Federación Italiana de Atletismo (Fidal) ha modificado una regulación que, hasta ahora, obligaba a los organizadores a aceptar solo certificados que se ajustaran al sistema legal italiano. Un gran punto de inflexión, por lo tanto, fruto de la intensa y fructífera colaboración entre Fidal y los organizadores.
Este cambio, permitirá a los grandes eventos italianos de nivel internacional, dar la bienvenida a todos aquellos ciudadanos extranjeros, con fines turísticos y deportivos, que rechazaban participar en dichos eventos debido a las trabas burocráticas.
Naturalmente, la regulación de participación para atletas extranjeros, registrados en clubes deportivos afiliados a federaciones extranjeras, permanecerán sin cambios.
—————————————–
Italienska maraton och halvmaraton efterfrågar inte längre läkarintyg av utländska löpare.
Äntligen kan även utländska löpare som inte är medlemmar i något förbund delta i internationella maraton- och halvmaratonlopp utan att behöva visa upp ett läkarintyg. Från och med nu kommer de istället att underteckna ett enkelt ansvarsavstående.
Det Italienska Friidrottsförbundet (FIDAL) har ändrat en regel som fram tills nu krävt att arrangörerna endast accepterar läkarintyg som överensstämmer med det italienska rättssystemet.
Detta är en viktig vändpunkt som tillkommit tack vare intensivt och framgångsrikt samarbete mellan det italienska friidrottsförbundet och arrangörerna.
Detta innebär att alla italienska sportevenemang på internationell nivå kommer ha möjlighet att välkomna utländska medborgare som har kombinerad turism och loppdeltagande som mål. Deltagare som tidigare valt att springa någon annanstans på grund av svårigheterna i den italienska byråkratin.
Reglerna för deltagande för utländska idrottare registrerade för idrottsföreningar som är anslutna till utländska federationer förblir oförändrade.
————————————–
Italienske maraton og halvmaraton krever ikke lenger legeerklæring fra utenlandske løpere.
Endelig kan til og med utenlandske løpere som ikke er medlem av noen forening, delta i internasjonale maraton- og halvmaratonløp uten å måtte fremlegge legeerklæring. Fra nå av vil de i stedet signere et enkelt ansvarsfraskrivelse.
Den italienske friidrettsforeningen (FIDAL) har endret en regel som frem til nå har krevd at arrangørene bare skal akseptere legeattester som er i samsvar med det italienske rettssystemet.
Dette er et viktig vendepunkt som har kommet takket være et intensivt og vellykket samarbeid mellom det italienske friidrettsforbundet og arrangørene.
 
Dette betyr at alle italienske sportsbegivenheter på internasjonalt nivå vil ha muligheten til å ønske utenlandske borgere velkommen som har kombinert turisme og reisedeltakelse som mål. Deltakere som tidligere valgte å løpe andre steder på grunn av vanskeligheter med det italienske byråkratiet.
Reglene for deltakelse av utenlandske idrettsutøvere registrert for idrettsforeninger tilknyttet utenlandske forbund forblir uendret.
———————————-
健康証明書(HEALTH FORM)の提出が不要になりました!
 
先日、イタリア陸連の規則改正があり、これまでご提出をお願いしていた健康証明書(HEALTH FORM)が必要なくなりました。今後は、免責事項へのサインのみでフルマラソンへの参加が可能となります。 
これによって参加者のみなさまに煩雑な手続きをお願いする必要がなくなり、今後さらにイタリアのマラソン大会が発展していく大きなターニングポイントとなることでしょう。 
陸連登録者における規則に関しての変更はありません。