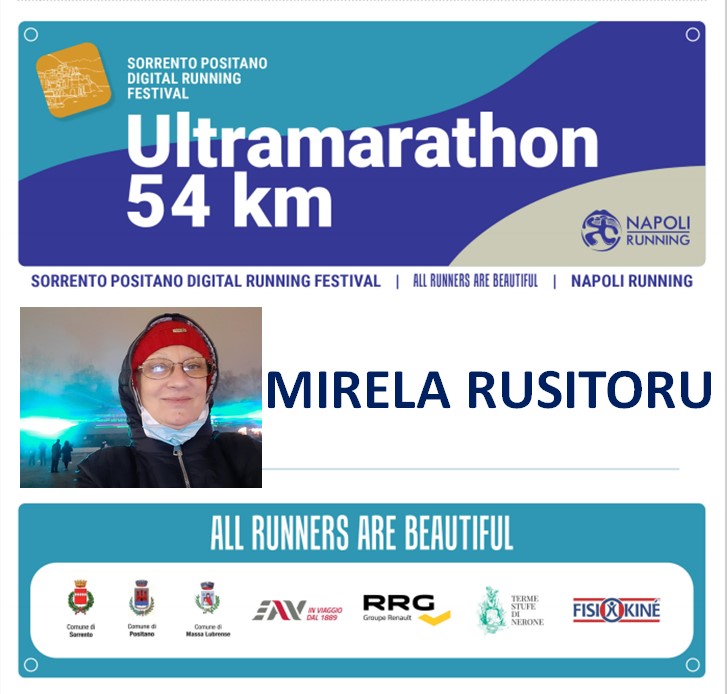 I started to run at 55 years old, in July 2013.
In 2014, Athens was supposed to be my first Marathon. Ten days before, I fractured my left foot. But I decided to fly to Athens and I wanted to Start the race at least for 1 meter, 10 meters, 100 meters. I took the first step and … I didn't stop until after 42 km. I cried, not because of the pain but  for seeing the people on the road singing  and encouraging me.
Since I know myself I like to make people smile and I do anything for this, so for seven years I make people laugh by playing in theatre comedies. I always run with a flower in my hand and a smile on my face. I even ran dressed as a Clown in Bucharest and Geneve.
I dedicate all my races to Hope, Love and People.
Sorrento Positano race was the chance to try reaching my unreachable Ultra Dream. My pace was of a turtle' s one because my feet's problems and semaphores, but my smile was as long as 54 km.
I used to jokingly say: "I am an UFO=Ugly-Fat-Old".
This race made me to make a change: "UFO=Ultra-Fantastic-Optimist"
I am 62 years old, I ran 140 races till now (including 9 marathons and Sorrento Positano Ultra) and finaly I understood that we are as young as we want to be, just to be brave and try something new.
My next dream? The100 km challenge! And, of course, an…OSCAR! :))))"
Kind Regards,
Mirela Rusitoru