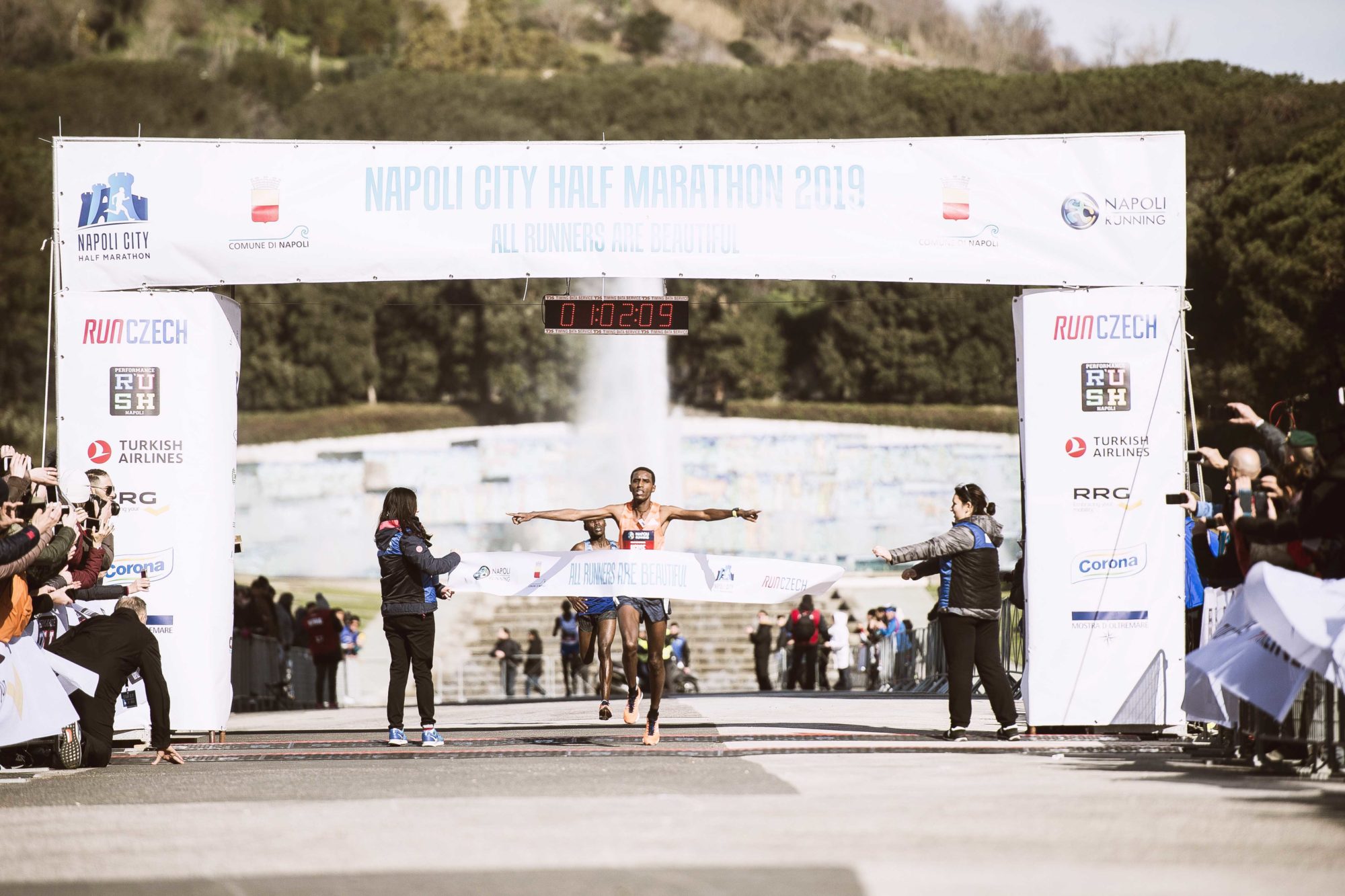 Tough weather conditions at Napoli City Half Marathon
On Sunday, February 24, the 6th Napoli City Half Marathon kicked off the RunCzech running season 2019. Under difficult weather conditions – very strong wind and only four degrees – the Eritrean Nguse Amlosom won the race with the time of 1:02:09. Among women it was Angela Tanui from Kenya who came in first clocking in 1:09:53.
It was really hard, the goal was to go under one hour, but unfortunately the goal was not achieved. The strong wind influenced the results of the competition. The winner of the 6th Napoli City Half Marathon, Eritrean Nguse Amlosom, whose personal best is 59:39 said: "It was a fantastic race, to run this course in this unique city is truly special. Lots of emotions, even though I could have done better, but the wind has ruined the plans for all of us. We went in 30:06 to 10 km and then in 44:24 to 15 km, with the wind behind us that allowed us to speed up, running even at 2:47 for several kilometers. But later it has changed to the opposite". The coach of this Eritrean champion, Massimo Magnani, who has followed him today on the Neapolitan roads mentioned: "Nguse is a great athlete and he trains with a group of guys really strong. He has done excellent things in the past, then some injury has kept him away from excellence but he has now solved these problems and is returning to his good levels. Now he will train here in Italy for two weeks to attend the Roma Ostia in March. His goal could be the final of the World Cup in the 10000 m, but there are many Eritrean athletes who deserve the national jersey. Then based on this we will see whether to make the debut in the marathon between autumn and winter where he could run at least 2:08:00."
To complete the podium of the 6th edition of the Napoli City Half Marathon we find Moses Kemei, who finished just behind Amlosom (1:02:11), with a really exciting final sprint. Third position for the Kenyan compatriot Ishmael Kalale – 1:02:23. First among Italian, brilliant Yassine Rachik (originally born in Morocco), finished fourth overall and never lost sight of the African trio in front of him clocking at 1:02:29. "If there was no such a wind I would have certainly run at least one minute less going to score a personal record. But it is part of the game, there are days with favorable conditions and some less."
Stefano La Rosa (Carabinieri) is also satisfied with the return to Napoli City Half Marathon after a good experience of 2018, finishing at the 8th place in 1:03:56.
Female race ended in the hands of the favorite and ever smiling Kenyan Angela Tanui, who won the 6th edition of the Napoli City Half Marathon in 1:09:53. The second podium was for Kenya again – Betty Wilson Lembus (1:11:33), same as the third place – 1:11:35 set by Martha Wanjiku Njorge. Fifth absolute, and Italian first position, was for Giovanna Epis, 1:12:29.
Together with the half marathon, the relay "Staffetta Twingo" (10+11,097 km) gave everyone a chance to be the protagonist on the streets of Naples.
More than 7 000 runners participated in this event. Non-competitive Family Run & Friends welcomed sport enthusiasts of all ages. Same as hundreds of volunteers, whose strength and support made sure that the event took place successfully.
Results
TOP 10 MEN
1. AMLOSOM NGUSE | ERITREA | 01:02:09
2. KEMEI MOSES KIPNGETIH | KENYA | 01:02:11
3. KALALE ISHMAEL | KENYA | 01:02:23
4. RACHIK YASSINE | ITALY | 01:02:29
5. BII GILBERT KIPKOECH | KENYA | 01:02:34
6. MWETICH SILAS | KENYA | 01:02:53
7. YEGON BETHWEL BIWOTT | KENYA | 01:03:00
8. LA ROSA STEFANO | ITALY | 01:03:56
9. KIPTIS JOSPHAT KIPROP | KENYA | 01:05:00
10. NILSSON DAVID | SWEDEN | 01:05:54

TOP 10 WOMEN
1. TANUI ANGELA JEMESUNDE | KENYA | 01:09:53
2. LEMBUS BETTY WILSON | KENYA | 01:11:33
3. NJOROGE MARTHA WANJIKU | KENYA | 01:11:35
4. MYKHAILOVA DARIA| UKRAINE | 01:12:28
5. EPIS GIOVANNA | ITALY | 01:12:29
6. KOTOVSKA OLHA | UKRAINE | 01:15:14
7. NIMBONA ELVANIE | BURUNDI | 01:15:50
8. GIOMI SARAH | ITALY | 01:17:10
9. BERTONE CATHERINE | ITALY | 01:17:57
10. HONKALA NOORA | FINLAND | 01:22:44