After the start of the Panoramica 27km, at 9:30 am, the non-competitive "Family Run" 2 km event will start, without ranking and open to everyone. The event is free for children under 10 and for adults over 65, the registration fee for everyone else is 5 €.
Participation is open to everyone and there is no need to submit a medical certificate.
DISTANCE
Km 2
START
ore 9.30 am
REGISTRATION FEE
Euro 5 (except for children under the age of 10 and adults over 65).
THE REGISTRATION FEE INCLUDES
Start number, medal and t-shirt
HOW TO REGISTER
• Online
You can sign up for the Family & Friends Run when you register for the Sorrento Positano Races.
• Direct registration
At the Expo 
START NUMBER PICK UP (for those who signed up online)
At the Expo 
RACE CANCELLATION
If the race is canceled, moved to another date and/or at least not performed for reasons not caused and/or not related to the will of the Organization, including the revocation of the authorization to hold the race by the competent public bodies, the registered athlete waives any claim to ASD Napoli Running, including reimbursement of expenses incurred by registering, also waived are any claims for damages and/or indemnification and any reimbursement, and/or compensation with regard to any current and future financial loss.
CHANGES
The Organizing Committee reserves the right to modify these rules at any time due to emerging needs and/or reasons that it deems appropriate for a better organization of the race. Any changes to services, locations, and times will be communicated via the website napolirunning.com
IMAGE RIGHTS
By registering for the Sorrento Positano, the athlete expressly authorizes the Naples Running organization to have the right to use any still or moving image in which he or she may appear when taking part in the race for all visual media, as well as promotional and/or advertising materials, produced and distributed throughout the world and for as long as is permitted by law, regulations, and treaties in force, including any extension that may be made to the allowed period of time.
ROUTE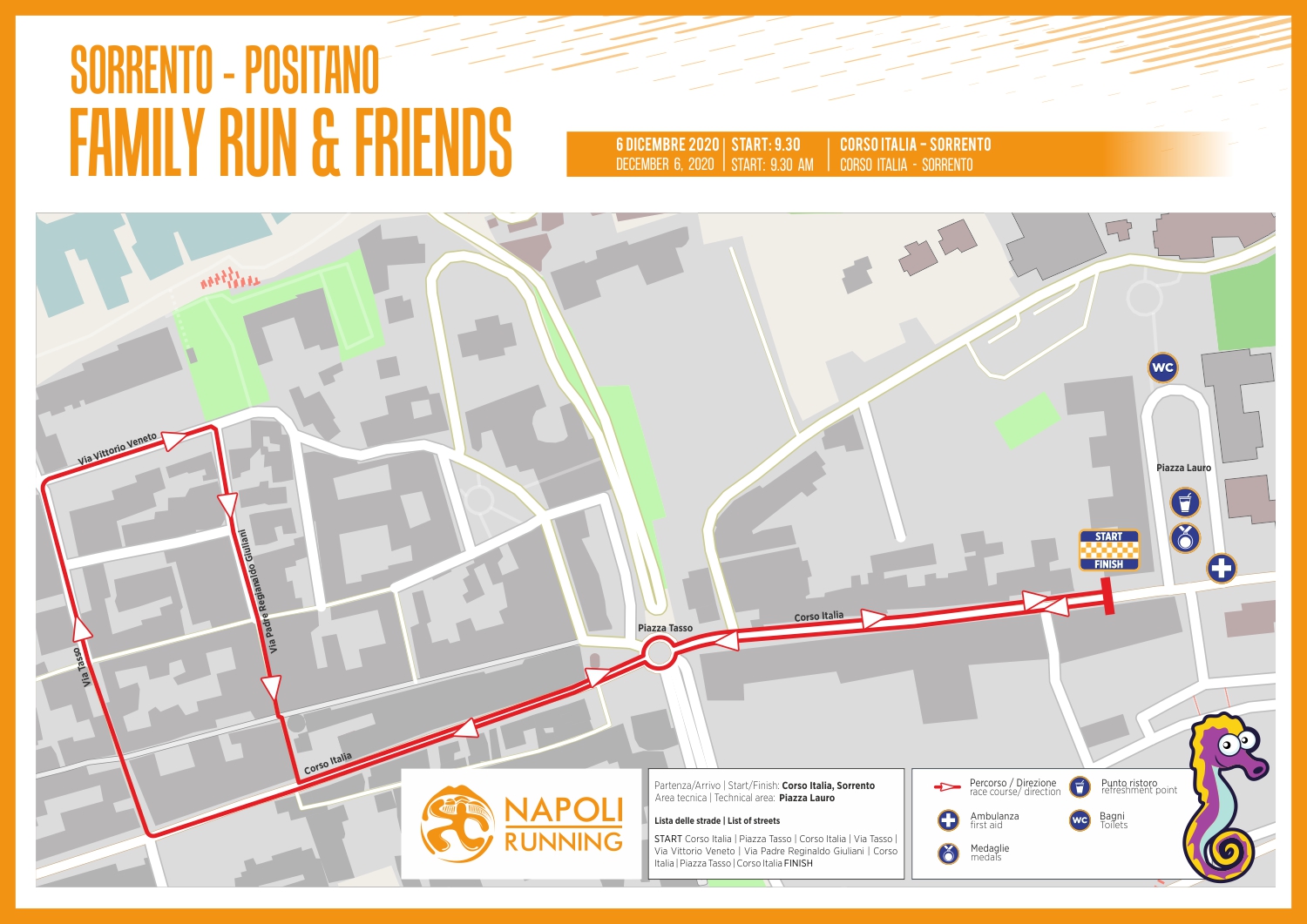 PRIZES
register
Instagram #sorrentopositanoraces