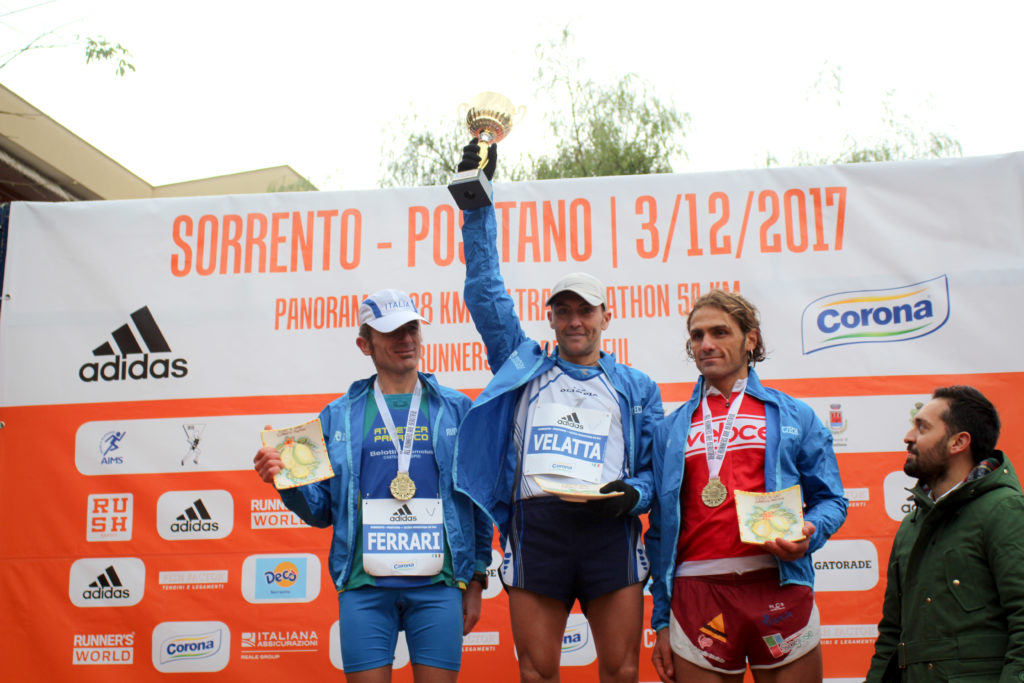 Biella-native Stefano Velatta, the 2017 star of the ultramarathons around Italy with the conquest of 5 Italian titles on various distances, closed his stellar competitive season with yet another victory during last December's Sorrento Positano Ultramarathon.
He was the first to show up in Sorrento, and he won in 3h28'44" in front of Marco Ferrari who finished in 3h31'51":
"Positive race, the stretch that leads into Positano was magnificent, the sun came out and you could see a breathtaking view which gave me goosebumps. The path in general is really fantastic", were his words at the conclusion of the race.
Stefano Velatta has already confirmed he will again be present, seeing as there is a first place to uphold, and he wants his name to once again be written in the golden register of this competition which is becoming a great Italian classic of the ultra-distances.
"I chose ultramarathons because I do not like the simple things – his words after confirming his registration – and I chose the Sorrento Positano Ultramarathon because it has a track which really has everything. Climbs, descents, plains, sea, mountains and a temperate climate, not to mention the scenery. Where can one find a better setting than this in Italy? … I almost forgot, Napoli Running's organization is impeccable and professional."
Hearing such words from a champion like Velatta makes us proud but also curious.
What kind of preparation do you go through for the ultras and the Sorrento Positano that will take place next December 2nd?
"I train as if I had to face a marathon, if I can give advice on how to face it I simply tell everyone to get lost in the wonderful views that the track offers, this way the finish line will arrive in a moment. Last year I won and I was swept by so many emotions, I'm sure it will happen again this year – I'm talking about the emotions; as far as winning… I'll give it my best shot!